Wells Fargo Reverse Mortgage
In June of 2011, Wells Fargo
announced
that they were leaving the reverse mortgage business. "Wells Fargo will continue to service the loans of existing (HECM) reverse mortgage customers," said Franklin Codel, executive vice president, head of National Consumer Lending, "We will continue to provide options for seniors who wish to determine ways to access the equity in their homes."
Existing Customers
If you are an existing customer with a Wells Fargo reverse mortgage, you may contact their customer service department at (800) 472-3209 for help with your mortgage.
Featured Lenders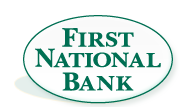 First National Bank
First National Bank is one of the fastest growing reverse mortgage lenders in the country. Their licensed loan officers are experienced in dealing with reverse mortgage loans. The bank is one of the most respected and well known HECM lenders.